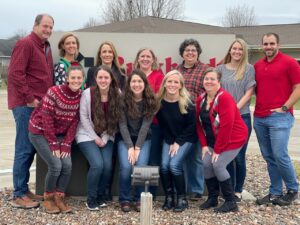 All staff members at Burkhardt Physical Therapy Center collaborate to ensure that each patient is getting the treatment and relief they need and expect from us.
Our goal is to see each patient we treat leave with less pain and move with greater ease after each session.
To ensure our patients receive the best treatment possible, our therapists are extensively trained and continuously seek education in advanced manual and neuromuscular techniques, as well as Jones Strain Counterstrain.
Melanie Maske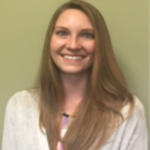 Hello, my name is Mel! I am a Doctor of Physical Therapy and own Burkhardt Physical Therapy Center, LLC with my husband Chad. I received my undergraduate and doctoral degree from the University of Wisconsin – La Crosse. I have experience working with a wide variety of patients and enjoy getting to know my patients and their preferences throughout their treatment. I have trained with Myopain Seminars to practice Myofascial Trigger Point Dry Needling Technique. I also have post graduate training in Jones Institute Fascial Counterstrain and Graston Technique.
I grew up in Plymouth, WI but fell in love with the Coulee Region during my schooling. My husband and I currently reside in Onalaska, WI with our dog Theo. We love all things outdoors including fishing, camping, hiking, and kayaking. We are always looking for more adventures, so I love hearing recommendations from my patients!
Ann Hanson
Hello, my name is Ann Hanson. I am a licensed physical therapist with over 30 years of experience. I received my degree from the University of Wisconsin – La Crosse in 1990 and have worked with adults and children in a variety of settings since then. I have learned that listening is key to helping others reach activity and wellness goals.
I have studied many post graduate courses including Jones Institute Counter strain, Fascial Counterstrain, John Barnes – Myofascial therapy, Upledger Craniosacral therapy, Visceral Manipulation, and Reiki. In 2016, I received my Certification of Expertise in Myofascial Trigger Point Dry Needling, and my Clinical Practitioner of Eden Energy Medicine. Energy Medicine is a great partner to Physical Therapy improving health and wellness. There are many paths to improved health and I am honored to be able to help people through the skills I have cultivated.
Burkhardt PT Center emphasizes a holistic and team approach which has helped many clients return to activities they enjoy. My husband and I have three adult children and we are learning to enjoy our empty nest. I enjoy camping, hiking, music/theatre, and spending time with my family.
Holly Powell
Hello, my name is Holly! I am a Physical Therapist Assistant and Certified Strength & Conditioning Specialist. I graduated from the University of Wisconsin – La Crosse in 2002 with a bachelors degree in Exercise and Sport Science with a Strength & Conditioning Concentration. I later pursued a degree as a Physical Therapist Assistant from Western Technical College, where I graduated from in 2011.
I chose the Physical Therapy field to help others find the best way to decrease their pain and improve their quality of life. I have training in Strain Counterstrain techniques, with emphasis on Venous Lymphatic, Visceral, Nervous, Arterial, Spine and Musculoskeletal Systems. I am also trained in CranioSacral Therapy, manual hands-on techniques, and Kinesio Taping which assists with pain reduction and improved function. I also established the Health Management & Personal Training program at Burkhardt Physical Therapy Center to combine my physical therapy knowledge with my personal training certification to offer an individualized program designed to help you succeed.
I am certified through the Functional Movement Systems organization in performing the Functional Movement Screen which assists with assessing active individuals and athletes for mobility and stability deficits that can increase their risk for injury. My husband Jon & I currently reside in Onalaska, WI with our 5 children. We enjoy living in the Coulee region for all the great family and outdoor activities that are offered here.
Anna Lucht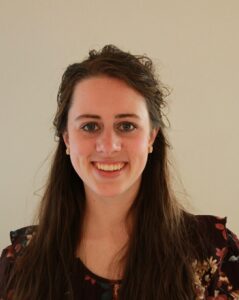 Hello! My name is Anna, and I am a Doctor of Physical Therapy. I attended the University of Wisconsin – River Falls for my undergraduate degree in Biomedical Science before earning my doctorate degree at the University of Wisconsin – La Crosse.
I love helping patients return to their favorite activities through integrated treatments that help rebalance their body systems. Additionally, I have taken coursework in Pelvic Health to further address patient needs from a whole person perspective. I am passionate about helping patients work toward an improved quality of life! My husband and I love the outdoors, and when I am not in the clinic, we enjoy biking, camping, hiking, and exploring new places!
Lauren Harding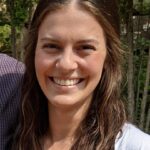 Hi! My name is Lauren, and I am a Doctor of Physical Therapy. I received my undergraduate degree in Kinesiology from Loras College in Dubuque, IA, and my doctorate in physical therapy from the University of Wisconsin- La Crosse.
I have taken continued education courses in Pelvic Floor physical therapy and Dry Needling. I have experience working with a variety of patient populations including vestibular. I am passionate about treating the whole person, which led me to join the Burkhardt Physical Therapy team of holistic and caring providers. I look forward to growing my skill set through further training.
My husband and I are both natives of La Crosse, and together we enjoy cooking, baking, and a plethora of outdoor activities. We love the Coulee Region!
Laurie Doladee
Hello, my name is Laurie Doladee. I have been a Physical Therapist Assistant (PTA) since 1998. I have worked in various areas of healthcare including a nursing facility, chiropractic clinic, orthopedic clinic, vestibular rehab clinic and now here at Burkhardt Physical Therapy.
Since joining the Burkhardt Physical Therapy team, I have enjoyed learning new techniques including Jones Strain Counterstrain, Fascial Counterstrain, Kinesiotaping, and Muscle Energy Technique. I have years of experience with Graston technique, therapeutic exercise, vestibular rehab and orthopedics. I continue to learn every day and enjoy helping people reduce their pain and improve their quality of life and activities of daily living.
My husband and I lived in the Chicago area for 35 years and now live in the country near Houston, MN. We really love this area and enjoy many outdoor activities. We still go back to the Chicago area several times a year to visit our grown children and grandchildren.
Jenny Mercer
Hi, I'm Jenny and I love being  a part of the Burkhardt Physical Therapy Team!  I am a very outgoing person and love helping people. I am the billing specialist and can assist you in a variety of ways, including insurance questions and billing, paperwork, and scheduling your appointments. Stop by my office to say hello!
I grew up in the Coulee region and currently live in Rockland, WI with my two beautiful daughters and our spunky dog, Gizmo. We are huge Packer fans and enjoy being very active.
Hi there! My name is Andrea Smith and I am the PT Aide here at Burkhardt Physical Therapy Center. I am responsible for making your visits comfortable and clean and I may pop up at the front desk to help you schedule an appointment every now and then, too. I have my degree as a Paraprofessional but decided healthcare is where I want to be! 
I am a mom of 6 kids (yes, 6), 3 girls and 3 boys. My family enjoys being outside, camping and hiking, and going to sporting events. I currently live in Bangor, WI but am originally from Ohio. My favorite teams are the Cleveland Brown's, Guardians, and Ohio State Buckeyes!
Myra Burkhardt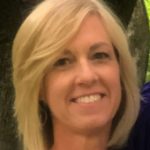 Hello, my name is Myra. I am the founder of Burkhardt Physical Therapy Clinic which was established in April 2001 with the encouragement of my husband, Randy.  I was always compassionate about listening to patient's stories and helping them find the right path towards their recovery from pain or injury. Burkhardt Physical Therapy was started with this in mind, and to provide patients with compassionate care with proven pain relief.
I graduated in 1987 from the Northwestern University Physical Therapy Program in Chicago, IL. I have over 31 years of experience which includes being a board certified specialist in Jones Strain Counterstrain and a practitioner of manual techniques, neuromuscular re-education, exercise instruction, and many hours of post-graduate continued education. I have retired from treating patients at Burkhardt Physical Therapy, but continue to provide training and advisory services to staff.
I feel very blessed to have had the privilege to work with so many wonderful patients and healthcare providers in the Coulee Region and beyond. I believe we can learn life lessons from every person we meet and can make a positive difference by a simple jester of friendship.