All staff members at Burkhardt Physical Therapy Center collaborate to ensure that each patient is getting the treatment and relief that they need and expect from us. Our goal is to see that each patient we treat leaves with less pain, moving with greater ease after each session. All of our staff members have experience with, and are continuously training in, advanced manual and neuromuscular re-education techniques, as well as Jones Strain Counterstrain, to ensure that the patient receives the best treatment possible.
Myra Burkhardt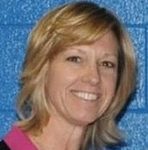 Hello, my name is Myra and I am a physical therapist. I am the founder and CEO of Burkhardt Physical Therapy Center, LLC, which was established in April 2001 with the help and encouragement of my husband, Randy.
I graduated in 1987 from Northwestern University Physical Therapy Program in Chicago, IL. I have over 30 years of experience in manual techniques, neuromuscular re-education, and exercise instruction, as well as many hours of post- graduate continued education. I am a board certified specialist in Jones Strain Counterstrain technique since 2004, and have continued to progress my skills and knowledge in this cutting edge treatment with each year.
I am excited to learn new treatment strategies to help patients who do not respond to standard physical therapy protocols. I have also studied and trained with Myopain Seminars to become an expert in Trigger Point Dry Needling Technique, another cutting edge strategy. I am a Certified Myofascial Trigger Point Therapist through Myopain Seminars since 2013. I feel very blessed to have the privilege to work with so many wonderful patients and healthcare providers in the Coulee Region and beyond. I believe we can learn life lessons from every person we meet and can make a positive difference by a simple gesture of friendship.
I have always been compassionate about listening to patient's stories and helping them find the right path towards their recovery from pain or injury. Randy and I have 2 adult children who are out in the world pursuing their dreams. We have lived in the Coulee Region for about 30 years. We enjoy being outdoors, sports, and family. I enjoy sewing, quilting, walking, and going on vacation.
Sarah Ziolkowski

Hello! My name is Sarah Ziolkowski. I am a licensed physical therapist and am very excited to be part of the Burkhardt Team! I completed my undergraduate course work at UW-La Crosse and obtained a Master's Degree from Carroll College, Waukesha. I am a physical therapist who specializes in treating balance and vestibular disorders.  This deals with, but is not limited to, the inner ear. It can encompass a wide variety of diagnoses and I would be happy to talk with you about your symptoms and offer help where I can! My first 10 years of clinical practice were at a rural hospital in Ladysmith, WI. It was there that I learned to treat a variety of conditions and adapt to people and circumstances. I developed a sense of acceptance in interacting with patients, doctors and providers of all kinds, which led to an openness to other ideas and treatment styles. Practicing physical therapy is fulfilling in that it is both an art and a science. Getting to know clients as individuals, and learning from their previous experiences helps me meld together a plan which ultimately better serves the client. In March of 2015, I attended an Advanced Dry Needling course which allows me to practice at the highest level of clinical proficiency in management of myofascial pain.  I am able to treat all accessible muscles in the body.  There are no other courses in the US that offer the same level of instruction and depth. I believe the team approach here at Burkhardt Physical Therapy Center really brings out the best and benefits both clinician and client.
In my "free" time, I am a busy but happy mother to 3 young children, and wife to my supportive husband, Scott. We enjoy all outdoor activities – such as biking, swimming, hiking in the bluffs, fishing and camping. I look forward to meeting and working with you as a team to improve your well-being!
Sean Naughton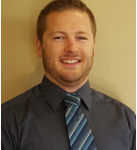 Hi, my name is Sean Naughton and I am a Doctor of Physical Therapy. I am a graduate of UW-La Crosse and I have been a part of the community since 2008. I have treated a variety of patients with varying limitations and debilities. I have a background treating sports injuries, balance deficits, post-surgical rehabilitation, chronic joint pain, Parkinson's Disease, and others.
My goal is to work with the patient to create a plan of care that will increase function, reduce pain, and improve quality of life. I am always looking to improve my skills through collaborative learning and by utilizing cutting edge techniques. Outside of the clinic you can find me enjoying the beautiful Coulee region outdoors, running, hiking, and biking.
Ann Hanson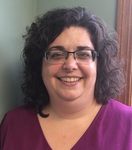 Hello, my name is Ann Hanson. I am a licensed physical therapist and am very excited to be a part of Burkhardt Physical Therapy Center. I received my therapy degree from UW – La Crosse and have over 25 years of experience as a therapist using manual therapy. In that time, I have studied manual therapy with many post graduate courses including John Barnes- Myofascial therapy, and Upledger Craniosacral therapy.
My preferred treatments include myofascial release, craniosacral therapy, and energy medicine. I am studying dry needling techniques to increase the methods I can use to assist clients to reach their maximum improvement and plan to receive my certification through Myopain seminars.  I believe there are many paths to improved health and am so honored to be able to help people through therapy. My husband and I have three great kids and enjoy camping, hiking, music/theatre, and spending time with our families.
Megan Breier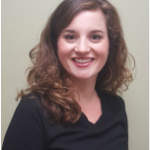 My name is Megan Breier and I am a Physical Therapist Assistant and Licensed Massage Therapist. I have been a part of the Burkhardt Physical Therapy Center team since 2013. I decided to pursue a Physical Therapist Assistant degree due to my interest in science, fitness, and overall health and wellness. I enjoy working one on one with people and listening to others. One of my favorite aspects of working as a PTA is seeing a variety of patients ranging from all ages and diagnoses.
Since joining the Burkhardt Physical Therapy team, I have attended extensive continued education courses including Jones Strain Counterstrain 1-3, Fascial Counterstrain (viscera, arterial, and nervous system), Kinesio taping, Treatment of Low Back Pain, and Craniosacral Therapy. My additional experience includes level 1 John F. Barnes Myofascial Release training, and a background of working in a skilled nursing facility.
Being a coulee region native, I enjoy exploring the outdoors, hiking, canoeing, meeting new people, reading, gardening, and canning. My husband and I are proud parents of two children. We currently reside in the West Salem area.
Holly Powell

My name is Holly Powell and I am a Physical Therapist Assistant, as well as a Certified Strength & Conditioning Specialist. I graduated from UW-La Crosse in 2002 with a Bachelor of Science degree in Exercise and Sport Science and a Strength & Conditioning Concentration.
After several years of being home with my son and running my own in-home daycare, I decided to pursue my Associates degree for a PTA at Western Technical College in La Crosse where I graduated in 2011. I pursued the Physical Therapy field looking for satisfaction with helping others with their pain and improved quality of life. I have received training in Strain Counterstrain techniques including classes with Venous Lymphatic, Visceral, Nervous, Arterial, and Musculoskeletal Systems, as well as the spine.
I have also received training in CranioSacral Therapy along with other manual techniques to assist with pain reduction and improved function. I have established our personal training program here at Burkhardt Physical Therapy Center which takes my physical therapy knowledge and experience and combines that with my personal training certification to offer a completely individualized program to help you succeed. I am certified through the Functional Movement Systems organization in performing the Functional Movement Screen which assists with assessing active individuals and athletes for mobility and stability deficits that are increasing their risk for injury.
My husband Jon and I currently reside in Onalaska with our 4 children. We enjoy the Coulee region for all of the great family and outdoor activities that are offered here. We stay very busy with our children and love spending time with friends and family.​
Brenda Osterlie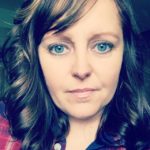 Hi, my name is Brenda. I am the billing specialist here at Burkhardt Physical Therapy Center. It is my job to ensure the billing portion of your treatment gets properly taken care of. Insurance can get tricky and I am here to make things go as smoothly as possible for our patients.
I am a very social person and love being around people. I really enjoy coming to work and getting to see all of our wonderful patients.
I grew up in the Coulee region, but moved to Minnesota for 13 years where I was a stay-at-home mom. I moved back to this area in 2011 to be closer to home and family. I am very blessed to have two children and a very cute dog named Zoey. We are big sports fans and love hanging out with our family watching the Packers, Badgers and Brewers!